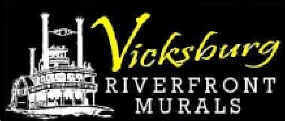 Dedicated: April 1, 2009
SPONSOR: Employees and Retirees of the U. S. Army Corps of Engineers,
and the Mississippi River Commission; Their Partners, Friends,
and Citizens of Vicksburg.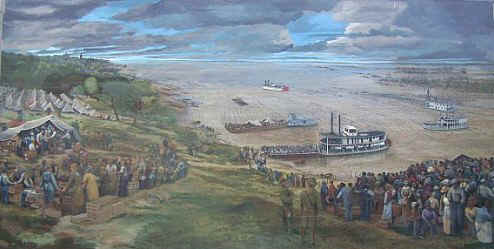 THE FLOOD OF 1927:
"Vicksburg and the Nation's Most Destructive Flood"
Torrential rains in the fall of 1926 and the spring of 1927 set the stage for one of our Nation's worst natural disasters. Levees held back the water until breaks occurred at Mound Landing, Miss., and Pendleton, Ark., on April 21, 1927.
Bt the time the floodwaters receded in August, more than 1 million acres and 162,000 homes were flooded, $100 million in crops had been damaged, over 700,000 people had been relocated to refugee camps (like this one on high ground in Vicksburg), thousands of buildings had been destroyed and several hundred people had died.
Over 31,000 heroic volunteers cared for their fellow citizens, rising above prejudices and self-interest to rescue, comfort, and shepherd them home.
As a direct result of this disaster, Congress passed the Flood Control Act of 1928 providing Federal funding and responsibility for flood protection on the lower Mississippi by the U. S. Army Corps of Engineers and the Mississippi River Commission (MRC). The MRC has relocated from St. Louis, Mo., and the Corps' Waterways Experiment Station was created to work with the Corps' Lower Mississippi Valley Division and Vicksburg District offices.
These efforts established Vicksburg as the center of expertise for water infrastructure engineering in the Nation.