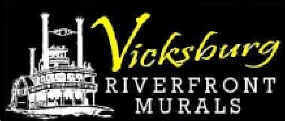 Dedicated: January 11, 2005
SPONSOR: The City of Vicksburg
& The Mississippi Arts Commission
VICKSBURG NATIONAL MILITARY PARK:
"The World's Art Park and Best Marked Battlefield"
The Vicksburg National Military Park, established by Congress on February 21, 1899, commemorates the campaign, siege, and defense of Vicksburg during the Civil War. The 1,800 acres of the park are dotted with over 1,300 monuments, making it the "art park of the world."
The most impressive of the memorials is the Illinois Monument, which was dedicated on October 26, 1906 and modeled after the Roman Pantheon. On its walls are 60 bronze tablets which record the names of the 36,325 Illinois soldiers who participated in the Vicksburg campaign.
The memorial was designed by William L. B. Jenney, who served as General Sherman's chief engineer during the Vicksburg operations, and cost $194,423.92.
The Shirley House, to the right of the monument, is the only building in the park that survived the siege. Built in the 1830's as Wexford Lodge by attorney Nicholas Gray, the house remains a part of the battlefield's landscape today.
The idea for the park can be credited to Civil War veterans of the Blue and Gray Association who, in 1895, formed the Vicksburg National Military Park Association., Veterans helped to mark the park, resulting in its recognition as one of the world's most accurately marked battlefields.
Back to Home Back to Murals Page