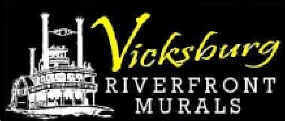 Dedicated: May 7, 2004
SPONSOR: The City of Vicksburg & Mississippi Arts Commission
NEW BEGINNINGS, LASTING LEGACIES:
"African-American Contributions"
From the earliest settlers to Vicksburg, African Americans have made significant contributions to social, educational, religious, economic and political progress.
Vicksburg was home to Hiram Rhodes Revels, the first African American U. S. Senator, the first President of Alcorn State University and the pastor of Bethel African Methodist Episcopal Church: the first AME church in Mississippi (1864), the home of the first African American Masonic Lodge in the state (1875) and Campbell College (1890), the first college in Mississippi to be established by blacks.
Other important leaders made great strides in education including Rosa A. Temple, J. G. H. Bowman, William Demby and Dr. Jane McAllister, the fist black woman to receive a PhD in education in the United States.
Other African Americans provided spiritual guidance: Rev R. T Middleton, Dr. John J. Morant, and Rev. Kelly Rucks. Leading the field of dentistry at the turn of the century was Dr. D. D. Foote, while his contemporary, W. E. Mollison, helped organize Lincoln Savings Bank and practice law.
The first black embalmer in Mississippi was William Henry Jefferson, who, along with his wife Lucy, were actively involved in community affairs including membership in a number of fraternal and social societies.
These and many additional African American community leaders helped to improve to quality of life for the residents of Vicksburg and have left a lasting legacy.
Back to Home Back to Murals Page